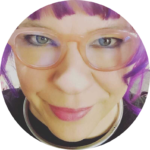 Ducky DooLittle is a pleasure-based Sex Educator and the author of Sex with The Lights On: 200 Illuminating Sex Questions Answered.
"There's no denying Ducky's extensive credentials for answering questions about the hydraulics of sexual acts." – Seattle Times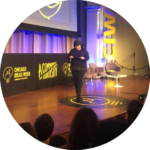 A sought-after speaker, Ducky presents for professional conferences, art museums, adult stores, church groups, homeless youth drop-in centers, community centers, on university campuses, and anywhere else her services may be needed.
"She's one of the most insightful and original sex educators and artists I've ever met."- Susie Bright
She has trained medical students on how to address sexual issues with care and compassion and has been the keynote speaker at sexual wellness conferences and social work conferences across North America.
She blogs about her adventures in the pleasure product industry and reviews sex toys on Sex Toy Radio.
"One of the most thought-provoking and interesting sex teachers out there." -Carol Queen, Good Vibrations
You can learn more about Ducky's work accomplishments here.